CAZtex is a specialized manufacturer and exporter on various expanded graphite yarn,carbon fiber yarn.
---
Graphite & Carbon
Graphite Yarn
| | |
| --- | --- |
| | In order to manufacture different kinds of reinforced flexible graphite yarns to be used for making different kinds flexible graphite packings, we use flexible graphite as basic material, mixing with natural fiber,synthetic fiber,metal alloy wire (respectively) and proper binding agent,then through specially designed technological process. The packing made of these flexible graphite yarns reinforced by different kinds of fibers and metal alloy wires, are suitable for sealing under different media, circumstance, temperature and pressure. |
| | |
| --- | --- |
| | It is twisted from carbon fiber yarns and used as heat insulation materials in thermal installations and heat conducting systems. Also can be extensively made to all kinds of carbon fiber textiles; and an excellent substitute for asbestos. |
17
1
8 Total 2 Records | 1/1Page
Contact info
Add:No.988, Lingxu Road, CiDong industrial zone, Cixi City, Zhejiang,China (PC 315338)
Tel:0086-574-23637992
Fax:0086-574-23637993
| | |
| --- | --- |
| E-mail: | |
Factories Show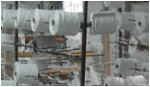 CAZtex Insulation Company Limited is one of the leading Manufacturer and Exporter of various insulation materials and products in China,.......
Our Link


Reciprocal link page
Upload a link to us and we will link back to you
( Industrial or Educational Related Site only please)
» Click here