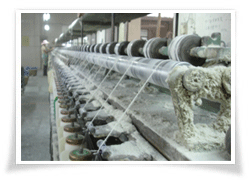 CAZtex Insulation Company Limited is one of the leading Manufacturer and Exporter of various insulation materials and products in China, belongs to CAZ Group Corporation, which is one of earliest production enterprises of refractory fire and heat insulator in china, owns four professional factories to manufacture asbestos, glass fiber, Ceramic fiber and other products.

High standard and high quality are appointed as fixed-point products by many domestic middle and big enterprises , are sold far to Japan , South Korea , Brazil , USA , United Kingdom , Middle-East countries and regions , and have found favor in eyes of customers in power ,petrol, metallurgical ,chemical ,building materials ,mechanical , space flight and other trades and overseas market.
Warmly welcome to CAZtex, we wish to make friends all people from all over the world.
Most of our products with lowest prices in the world, your any prices can be possible in CAZ.

Our main products as follows:
Dust free Asbestos:
Dust free asbestos yarn, dust free asbestos rope, dust free asbestos tape, dust free asbestos cloth etc.
Dusted Asbestos:
Asbestos yarn, asbestos rope, asbestos packing, asbestos tape, asbestos cloth, asbestos fiber felt and so on.
Glass fiber :
Glass fiber yarn, Glass fiber rope, Glass fiber packing , Glass fiber sleeve, Glass fiber tape, Glass fiber cloth, Glass fiber Tissue, Glass fiber felt , Glass fiber blanket , Glass fiber board, Glass fiber product with rubber or PTFE etc.
Ceramic fiber:
Ceramic fiber yarn, Ceramic fiber rope, Ceramic Sleeve, Ceramic fiber tape, Ceramic fiber cloth, Ceramic fiber paper, Ceramic fiber board, Ceramic fiber modules , Ceramic fiber blanket , Ceramic fiber felt, Ceramic fiber Bulk, Ceramic fiber pouring material and so on .
Graphite and Carbon fiber:
Expanded Graphite Yarn, Expanded Graphite Tape, Expanded Graphite Tube, Expanded Graphite cloth etc.
Carbon fiber yarn, Carbon and Glass fiber yarn, Carbon fiber tape, Carbon fiber tape with Aluminum, Carbon fiber cloth, Carbon Fiber Cloth with Aluminum, Carbon fiber and Glass fiber cloth and so on .
Insulation Sheet:
Asbestos Millboard, Non-asbestos Millboard, Asbestos rubber sheet, PTFE sheet, PTFE Rod, PTFE Tube, PTFE film, PTFE yarn
Rubber-PE Anticorrosion Materials
Anticorrosion Tape, Protective Tape, Joint Wrap Tape, Paint Priming