All kinds of ceramic fiber boards, adopting corresponding blowing fiber(ST.HP.HAA.HZ) as the material, are produced by vacuum formed technology.
All kinds of ceramic fiber boards, do not only possess the same; function of fiber, but also have hard texture ,excellent toughness and intensity, and excellent fire resistant and heat preservation.
---
Ceramic Fiber
Ceramic Fiber Board
| | |
| --- | --- |
| | Ceramic fiber board uses non-brittle material, therefore it has good tenacity, high compressive strength, good flatness and mechanical process ability. Temperature is 1050¡æ, 1260¡æ, 1430¡æ and it is the ideal material for wall liner and back lining of the heating equipment. |
17
1
8 Total 1 Records | 1/1Page
Contact info
Add:No.988, Lingxu Road, CiDong industrial zone, Cixi City, Zhejiang,China (PC 315338)
Tel:0086-574-23637992
Fax:0086-574-23637993
| | |
| --- | --- |
| E-mail: | |
Factories Show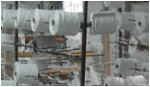 CAZtex Insulation Company Limited is one of the leading Manufacturer and Exporter of various insulation materials and products in China,.......
Our Link


Reciprocal link page
Upload a link to us and we will link back to you
( Industrial or Educational Related Site only please)
» Click here